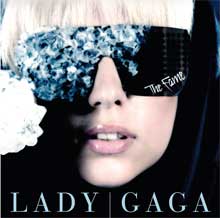 LADY GAGA
THE FAME
UK Album Tracklisting

1. Just Dance
2. LoveGame
3. Paparazzi
4. Poker Face
5. Eh, Eh (Nothing Else I Can Say)
6. Beautiful, Dirty, Rich
7. The Fame
8. Money Honey
9. Starstruck
10. Boys Boys Boys
11. Paper Gangsta
12. Brown Eyes
13. I Like It Rough
14. Summerboy
15. Disco Heaven – INTERNATIONAL / UK BONUS TRACK (NOT ON US ALBUM)
16. Again Again – UK ONLY BONUS TRACK (NOT ON US ALBUM)
So as you can see there are some songs not on the US album (a couple of which have already leaked and a couple of which haven't) and some songs are in a slightly different order.