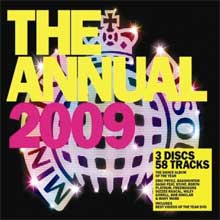 The new Ministry Annual 2009 album is brilliant**.
It includes the following triumphs:
» The Jason Nevins mix of Chris 'n' Jordin's 'No Air'
» The very good Tom Neville version of The Ting Tings' 'That's Not My Name' (although if you haven't already got this you're a fool to yourself — it's great)
» Star Pilots' 'In The Heat Of The Night' (which we wrote about ages and continues to be v good) (although the mix on this album is a bit duff)
» Outsiders (?) with their version of Robyn's 'Keep This Fire Burning', which isn't the last new version of this song you'll hear in 2009 but is good enough to be getting on with)
» The Fred Falke mix of The Montanas' 'Music Talking', which is tip top in a Bangalter & Falcon sort of way
…and various other things.
We know this reads a bit like an advertorial but it is not. All we are trying to say is that when we had it on in the office yesterday we quite enjoyed it. That's all we're saying. Is that a crime? Who are you, anyway, the Compilation Album Coverage Police?
* It's not really rave it's just a bit dancey
** When we say the album is brilliant what we mean is that we have been listening to a pro­mo­tional version of the double album with short clips of each of the 40 tracks all squeezed on to one disc. Preferable, really, in many ways: we're all busy people these days and if we can save precious minutes by cutting out the rubbish and getting straight to the good bits — not just in songs but in con­ver­sa­tions and general 'life matters' — a lot more work will get done.