Look, it says so on their website.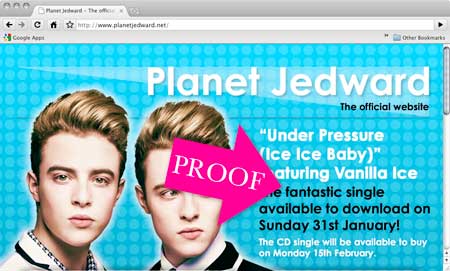 Did you see them per­form­ing it on the Smash Hits Pollwinners Party last night? You probably did, but if not here it is.
httpv://www.youtube.com/watch?v=h4nCUBNhQ4Q

Things we love (or maybe don't love — rational thought doesn't really apply in this sort of scenario) about this 'song' and 'per­form­ance'.
1. It's 'Under Pressure' and 'Ice Ice Baby' but in terms of structure they've binned off the boring bits from both songs. 'Under Pressure' tra­di­tion­ally takes over half a minute to get to the good bit — in the world of John & Edward you're there in eight seconds flat.
2. The ruth­less­ness of this arrange­ment is inter­est­ing in that when Journey were asked per­mis­sion for Joe McElderry to release a rearranged version of 'Don't Stop Believin'', they declined. But when faced with something like THIS, Queen clearly just went, 'yeah, whatever'. As the music industry faces increas­ing financial trouble and bands look for new ways to make money, it's great to remember that the remaining members of Queen have been kicking their legacy and back catalogue to a bloody pulp for almost two decades. It seems nothing has been too shit to get the Queen seal of approval, and what they're cleverly doing here is devaluing the Queen brand very very thor­oughly, but also very very slowly. It's an efficient, sys­tem­atic taking apart of everything that was once actually great about Queen, the clear intention being that at the precise point when the final member of Queen dies of old age, there is nothing left for anybody else to exploit.
3. John & Edward have been per­form­ing this song on numerous PA dates around the country and still don't really know what they're doing. Presumably there has been a lot of time spent rehears­ing with cho­reo­graph­ers too. They are basically never going to be able to pass for actual popstars. Yet they are at the centre of very big pop moments like this.
4. It's got a talky bit.
5. It's got Vanilla Ice in it.
Five points is quite enough. To finish things off here's an amazing 'fan frenzy' video in which John does a sort of handstand flip thing and falls over.
httpv://www.youtube.com/watch?v=QPIXPcU5Nf8

The year is 2010.