Of course, the problem with consuming pop through muffins is that, after­wards, you may feel the need to brush your teeth. If only there was some way of con­tinu­ing the musical theme, so that you could continue listening to your favourite music while brushing your teeth.
Ladies, and gentlemen: TOOTHTUNES.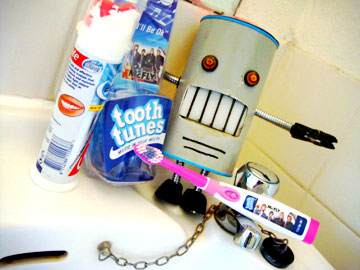 Toothtunes is a tooth­brush. Sure, we've all seen tooth­brushes. They're brushes for your teeth. Nothing new there. Some people thought that the evolution of the tooth­brush was complete with the dawn of the electric tooth­brush. "Nowhere for tooth­brushes to go now," they said. "That's it for the next thousand years."
WRONG.
Toothtunes is a tooth­brush which uses ter­ri­fy­ing vibrtaing tech­no­logy to buzz songs straight into your head while you brush your teeth. The one we have been sent contains a clip of McFly singing 'I'll Be Okay', but you can also get a Scissor Sisters one (SURELY THE INCISOR SISTERS LOL) so we can only assume that the deal to licence these songs was done at some point in 2005. If it was done now surely it'd be Scouting For Girls and 'The Hoosiers'. Perhaps they should have gone for Broisin Murphy. Or a song by Plaxons. Leona could have flown the flag for gin­giv­itis with 'Bleeding Gums'. Maybe something by Gums Aloud — or a solo effort from Cheryl Colgate.

Or not.