Before the band went on stage last week, Jules from The Presets was concerned that his shirt was not well-ironed enough for the occasion. It's not every day you play a gig in London (unless you're Foals), and he wanted to look his best.
There was a simple remedy — a spot of ironing.
Here's Jules about to embark on this important mission.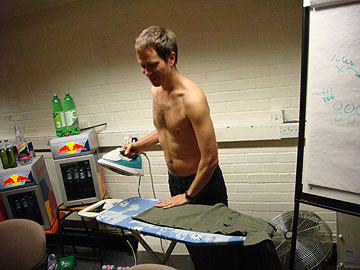 He looks happy with his work, doesn't he. Content. A simple man with simple demands in life: a freshly pressed shirt. And a strict diagram of where band members should stand on stage. And colour-coded sweets arranged in the shape of his name. And pieces of fruit and veget­ables arranged in order of how good they are. Like we say, a simple man.
Here you can see him dealing with the shirt's collar.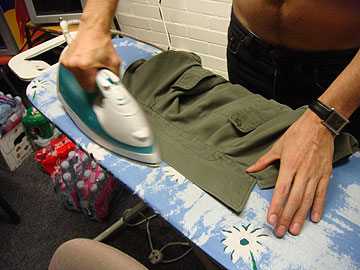 Some people find shirt collars the most dis­tress­ing part of the ironing process but we were there and we can tell you right now that Jules was fucking loving it.
With the collar out of the way, he moved on to the tricky parts between the shirt's buttons.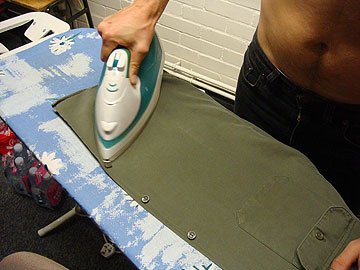 This attention to detail is crucial in under­stand­ing what Jules is like as a person. He went to great lengths to make sure that the material in between the buttons was pressed — even though shirt func­tion­ing mech­an­isms mean that the area in question is always covered.
Finally — the bit on the shoulder whose proper name we have forgotten.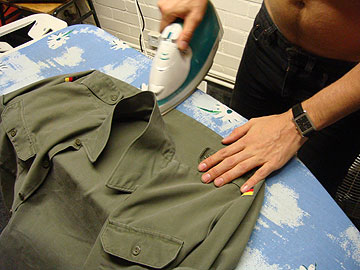 Jules tackled the shoulder bit with a tri­umphant flourish. He was excited that the ironing process was almost over but, though he didn't say as much, we also sensed a certain degree of sadness in his actions. After all, once one has finished ironing a shirt, where is there to go? Well, 'on stage' seemed to be the answer, and we were finally kicked out of the dressing room.
We hope you have enjoyed this 'exclusive' look behind the scenes at the whirlwind lives of The Presets. It might have been funnier if the band in question was a bit more famous but there you go. Maybe they will be a bit more famous in a few months and we can re-run the hilarious pho­to­graphs as 'Classic Popjustice' or 'Popjustice Gold' or something. Not that we would ever string out a joke far beyond breaking point or anything.