Here's a poser for a Friday morning: what would it take — beyond the new single 'Backfire At The Disco' — to make you like The Wombats even less than you already do?
How about The World's Least Subtle Online Compaign in which fans bombard mes­sage­boards (like the Popjustice one) hoping people will go the The Wombats' site and share their hilarious stories of chat-up lines backfiring?
From the Popjustice forums: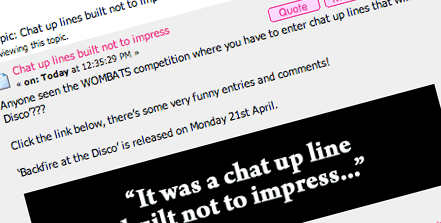 It's funny, really — there's not really that much dif­fer­ence between a bad chat up line and a bad piece of internet spam, although even the most tragic 45-year-old at the country's worst pro­vin­cial nitespot would probably know that including a release date is the spamular equip­valent of marching up to a 16-year-old and announ­cing "HELLO! I'm a convicted sexperv, can I spike your drink?".