We went to what was billed as a 'Lil Chrismas party' last night. It was basically just an album launch with some tinsel.
Peaches Geldof was DJing before­hand which was AMAZING — she'd literally stop one song then start the next on a complete whim. Bored of a track by the end of the first chorus? No problem — just whack on the next one. Amazing.
Chris seemed to perform most of the album (we were already quite drunk by the time he came on, which somewhat tra­gic­ally was at 7.10pm) as well as a cover of Justin Timberlake's 'SexyBack', featuring the line "take it to the walrus". Apparently he performed the track on Jo Whiley recently.
NB: There is currently no more annoying a phrase than "they did it on Jo Whiley".
Of course it wasn't just about pop and tinsel — because combining three of the world's most amazing inven­tions there was also a BUFFET made entirely of MINCE PIES and CHOCOLATE.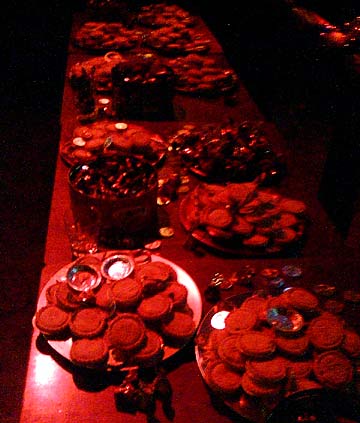 In the toilets, one of our friends was informed by a pair of moody teenagers that she was too old to be at the gig. Our friend is 23 years old.