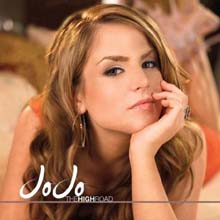 It is called 'The High Road' and it is, by and large, dreadful from start to finish.
Here is why.
:: JoJo is really bloody annoying.
:: She doesn't exactly look like she's a bundle of laughs does she? "Hello my name is JoJo and i'd rather be anywhere than having my photo taken for my new album etc…"
:: There are 15 (1! 5!) songs on the album, and con­sid­er­ing things swerve off 'The High Road' and into the bushes after track four, that leaves 11 songs which are com­pletely superfluous.
:: And even track four, which is the single 'Too Little Too Late', isn't 'all that'.
:: She's still about 11. She says she's 'grown as a person' in her thank yous, but this is an out and out lie.
:: 'How To Touch A Girl' is one par­tic­u­larly unset­tling moment.
:: She's put several words in bold on the back cover. Is there a code or is she just not familiar with how to use a computer? Well, if you spot anything satanic in the words — as bolded on the album cover — 'Way do time too late it high that ol' for to a bonus whatcha do can you leave out' then email us at [email protected]. (NB: Don't email us because that email address doesn't exist.)
:: She has Sellotaped 'Leave (Get Out)' onto the end of the album, almost as if she hadn't already released an album. Which she has, viewers, and it was also rubbish.
:: There is — if we were playing 'rubbish popstar bingo' right now we'd be shouting 'HOUSE!' — a Diane Warren ballad on it! It's called 'Note To God'! It's rubbish and annoying!
:: She's got really weird eyebrows.
On the other hand, it does have those nice rounded corners and she has sampled 'Africa' by Toto on 'Anything' so perhaps it is not all bad.*
* It is.