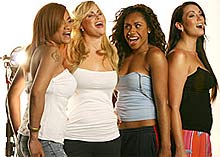 This would never happen in the UK. Young Divas, the band made up of four former Australian Idol con­test­ants, have released an album of craptastic (mainly 80s) pop covers — on a MAJOR LABEL.
Have a look at this gruesome lineup (below, not to the right) which on the whole rather looks like it was put together by an A&R man with only copy of Pete Waterman's Greatest Hits for reference.
1. 'What a Feeling' (Flashdance)
2. 'This Time I Know It's for Real'

3. 'Right About Now'
4. 'Gloria'
5. 'Happenin' All over Again'
6. 'Searchin' (I Gotta Find A Man)'
7. 'Woman In Love'
8. 'It's Raining Men'
9. 'Let's Hear It for the Boy'
10. 'She Works Hard for the Money'
11. 'Say I'm Your Number One'
12. 'You'll Never Stop Me Loving You'
13. 'I Will Always Love You'
As you might expect the pro­duc­tion is about as subtle as Javine Hylton at a key party and the girls' vocal 'technique' makes the Katie Price sound like Aretha Franklin but it's all amazing and we would like to recommend (listen­able on their website) 'Searchin'', 'What A Feeling' and 'Happenin' All Over Again'.
Here's 'Happenin' All Over Again'.
Like we say, abso­lutely shit but abso­lutely brilliant.
More videos:
'It's Raining Men' with the worst backing dancers of all time
Chronic 'This Time I Know It's For Real' video
Young Divas totally anni­hil­at­ing 'Super Trouper' on Abbamania