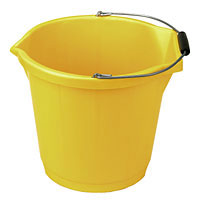 A few weeks ago we let you know that we had an idea involving a bucket. Due to under­whelm­ing public demand we will now tell you all about that idea.
THE PROBLEM
The pop charts are in a state of flux. It's all very confusing. Which singles are hits, we often ask ourselves, and which 'hit singles' have simply been the result of some very carefully engin­eered behind-the-scenes jiggery pokery?
WHAT'S NEEDED
What we need is some sort of 'control' element. Something against which mean­ing­ful theories regarding success, fame and pop­ular­ity can be measured. But what is that control?
OUR SOLUTION
Once a year, every recording artist is required by law to record the sound of them­selves shitting into a yellow bucket. This recording is then put on sale — with no promotion or any other attempt to draw attention to its existence — via iTunes and all other usual outlets. The idea is that if someone will buy the sound of an artist shitting into a yellow bucket, they'll buy anything, so their purchase means less than someone who, say, just likes the song. A chart is then compiled of which artist's buck­et­shit­ting releases are most popular. A second UK Top 40, running alongside the official UK Top 40, is then con­struc­ted, weighted according to this 'Bucket Index'.
HOW THIS WORKS IN REAL LIFE
Idiot: W00t! Katy Perry has outsold Robyn — she is therefore a better artist!
Non-idiot: Well if you look at the Bucket Index Katy has a score of 0.1, so in real terms Robyn's success is far greater.
Our next step will be to make sure all major labels are on board — it won't work if, say, Sony break ranks and just do whatever they want — and we'll also need to be sure that major radio networks won't suddenly decide not to playlist acts who are on the Bucket Index. Finally, of course, we'll need a few acts to start things off. We'd probably go for Lady Gaga, Example and Parade.
Look it's not perfect but it's a start, right? Right.