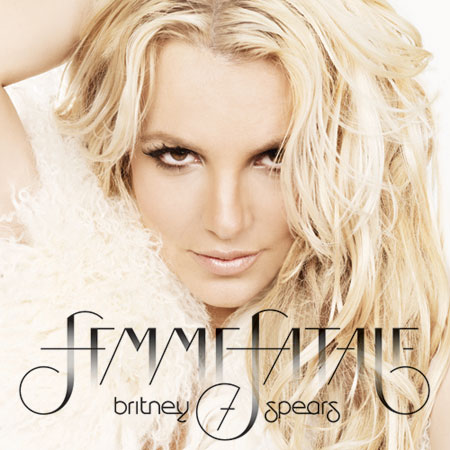 A few weeks ago we wondered whether Britney's album would continue her amazing tradition of double entendres.
Well, the actual 'Femme Fatale' track­list­ing is now out so let's look at the track­list­ing and see what's what.
1. 'Till the World Ends'
Could be about Doing It for a long time.
Verdict: Potentially about The Sex.
2. 'Hold It Against Me'
As has already been estab­lished this is all about sex. The only way wanting bodies is likely not to be about sex is if it is about a Silence Of The Lambs-style serial killer hoping to make a suit out of other people's bodies. Can Britney or her man­age­ment please clarify this cheers.
Verdict: Almost def­in­itely about The Sex.
3. 'Inside Out'
This sounds a bit unpleasant.
Verdict: Hopefully not about The Sex.
4. 'I Wanna Go'
It all depends on where Britney wishes to go. If she wants to go to the bedroom she may require sex, if she wants to go to Bristol probably not.
Verdict: The sexjury is out.
5. 'How I Roll'
This one could be about sex, it could not. We have nothing per­cept­ive or amusing to say about this.
Verdict: None.
6. 'Drop Dead Beautiful'
We predict this song is not about sex per se, but probably involves reference to sex in some way.
Verdict: A bit sexy.

7. 'Seal it with A Kiss'

Hopefully this is not about her bumhole.
Verdict: Possible sexual content, approach with caution.
8. 'Big Fat Bass' (with will.i.am)
Bass is clearly a metaphor for cock.
Verdict: It's about The Sex.
9. 'Trouble For Me'
Probably about some bloke being the wrong kind of potential partner but still being alluring anyway.
Verdict: Maybe not about The Sex.
10. 'Trip to Your Heart'
Everyone knows that the best way to a man's heart is through his penis.
Verdict: It's about The Sex
11. 'Gasoline'
Have you ever noticed that when you put a 'gasoline' (petrol) hose into a car it is a bit like a penis going into a vagina?
Everyone knows that the best way to a man's heart is through his penis.
Verdict: It's about The Sex
12. 'Criminal'
Maybe it's about a sexcrime s‑s-s-s-sexcrime. Maybe about it's being 'banged up' (ie in prison but also maybe in the rumpo sense).
Verdict: Probably about The Sex.
13. 'Up N Down'
It's hard to imagine this one being about the act of love.
Verdict: It couldn't possibly be about The Sex
14. 'He's About To Lose Me'
If this song is written from the per­spect­ive of 'his virginity' then it could indeed concern sexual intercourse.
Verdict: Potentially about The Sex.
15. 'Selfish'
This is about finishing off the Shredded Wheat and not getting any more in spite of the fact that you walk past the super­mar­ket on the way home from work and it wouldn't have killed you to take five minutes to pop in and buy some.
Verdict: Pacebreaker. Not about The Sex.

16. 'Don't Keep Me Waiting'
Yes this is probably about sex.
Verdict: Let's end the album on a sexual note.
It's not long until the album's out and we will know for sure. HOW EXCITING.