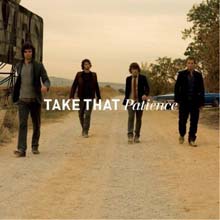 Take That
'Patience'
Watch The Video
Westlife were dreadful on X‑Factor on Saturday and we are still not sure what note Mark was trying for when he shouted at the end.
So it is lucky that Take That are now doing Westlife songs a lot better than Westlife them­selves. The other day we played 'Patience' on repeat until we had no option other than to listen to the not-quite-as-good b side to give ourselves a rest.
The single charted at Number 4 last night on download sales and will probably be Number One this week unless Jet have a spurt. If Jet do have a spurt we do not want to be around to see it.
Also out this week…
SINGLES: 'Too Little Too Late' by JoJo is far better than it has any right to be, although the obvious joke is in the title with this one and she is probably still too young to under­stand 'irony'. Similarly, Lostprophets are showing no warning signs of devel­op­ing a sense of humour as the dread­fully titled 'Can't Catch Tomorrow' proves, although there are equally joyless records in the shops by Faithless, Red Hot Chili Peppers and Jet and, as an you may be aware, misery does love company. The worst Pink single of all time, 'Nobody Knows', is also out and so is another good song by The Feeling, although nobody actually needs to hear 'I Love It When You Call' to have some sort of idea how it sounds.
ALBUMS: Matt Willis' 'Don't Let It Go To Waste' album is in the shops today and is much better than a third Busted album would have been, unlike the Gloria Estefan greatest hits. Also in the shops is something ter­ri­fy­ing from Michael Bolton, who is now singing songs by Frank Sinatra — a sort of 'Swing When You're Washed Up And Get A Tax Bill'. The Beatles' 'Love' album is quite good too, but a) it's by The Beatles, and b) we've had the Matt Willis album on at PJHQ a lot more, so we'd recommend you buy that instead.