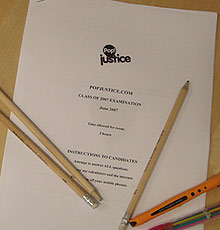 Popjustice is having an EXAM! Oh yes.
If you're currently revising or studying, put all that useless stuff to one side RIGHT NOW and download the Popjustice exam paper. Print it off, fill it in then send it to us to take your place in the Popjustice Class Of 2007.
Download the exam paper by right-clicking the link below.
There's more info here — but remember the closing date is June 15…