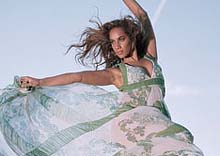 In case you haven't already heard it, here is Leona Lewis covering Snow Patrol's 'Run' in typical Leona Lewis style, for Jo Whiley's Live Lounge.

'Typical Leona Lewis style' now seems to involve a quiet and restrained first three quarters prior to the sound of all Hell being let loose in the final quarter. Big vocals, choirs, orches­tras, tanks, bombs, marching bands, weeping, wailing, elephants, klaxons and car alarms.

Here's a little bit of it.

[audio:runclip.mp3]

Isn't that a little bit fucking amazing?

"Yes Popjustice, that is fucking amazing" — The World.