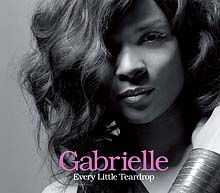 Ages ago (September) we spent a lot of time telling you how good the new Gabrielle album was – and indeed still is.
The 'Why' single was a complete chart disaster but the album did alright and there were a couple of songs on there ('Show Me Love', 'Closure') that were obvious follow up singles to 'Why'. Either could have easily turned the 'Always' album from being a moderate success into something massively popular.
'Show Me Love' mixes classic Gabrielle ballad-isms with Massive Attack's 'Unfinished Sympathy' while 'Closure' mixes classics Gabrielle ballad-isms with more classic Gabrielle ballad-isms and an enormous lump of amazing misery.

Here however is a link to watch a clip of the new Gabrielle video, 'Every Little Teardrop'.
You will probably agree that as songs go, there is abso­lutely nothing wrong with 'Every Little Teardrop' and apart from the woman having lunch looking a bit like a man, there is nothing wrong with the video either.
However, it is bewil­der­ing that a project already flounder­ing, but one with a couple of obvious saviours tucked away on the album, those are being over­looked in favour of releasing something that is purely perfunctory.
We like Gabrielle a lot, but whoever is choosing these singles for her clearly does not.