Let's start things off with the 'Born This Way' Grammys per­form­ance as an embedded video that will have been removed by the time you see this.
Well that was/wasn't very good was/wasn't it depending in whether it wasn't/was removed.
But what does it all mean?
1. [GENERIC EGG JOKE TO GO HERE]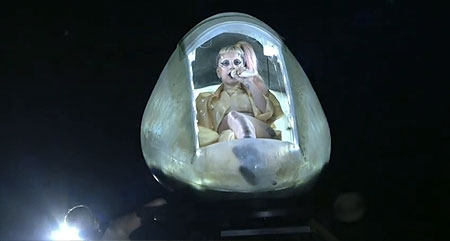 After arriving at the Grammys rehears­als in a coffin Lady Gaga emerges, for the first per­form­ance of 'Born This Way', from an egg. She is being reborn 'and all that'. But regard­less of the being reborn angle, she is, at the end of the day, sitting in an egg. That egg looks com­fort­able. We would quite like to sit in that egg.
2. HAT ALERT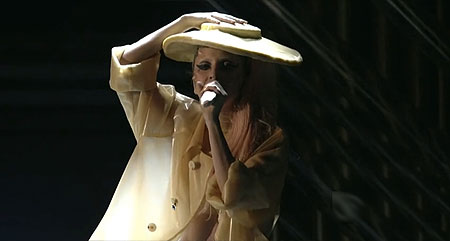 In keeping with the egg 'motif' Lady Gaga wears a hat that looks like it has been made from a three-day-old omelette. Due to being Mother Monster she is now dressing a little bit like a mum at a wedding. In fact you cannot see it but there is a tissue up her left sleeve and if you don't wipe that chocolate from around your mouth she's going to have to do it herself, are you listening?
3. SHE WHIPS HER HAIR BACK AND FORTH BUT MAINLY FROM SIDE TO SIDE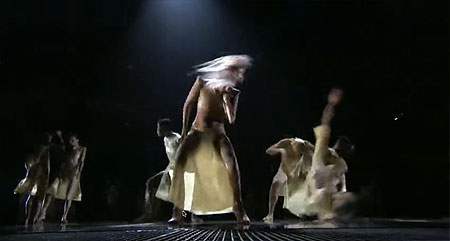 All the hair tossing in this per­form­ance is really good. Well done everyone.
4. SHE IS ORGANISED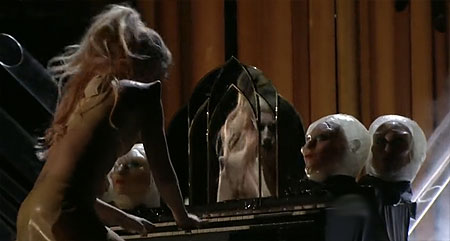 She is playing an organ so we said she is organised. Ahahaha ahhahaha. No but seriously Lady Gaga probably is quite organised — she seems to have a good idea of what's happening when in her career and that sort of thing requires excellent organ­isa­tional skills. Do you think Lady Gaga ever forgets to eg put the bins out? We doubt it. We expect she probably plans putting her bins out months in advance of bin day, keeping her Little Monsters up to date with vague but still inter­est­ing hints of whether she will be taking out the recycling or general waste first. WHICH WILL IT BE? Perez is saying it's recycling out first!! Ryan Seacrest has seen the binbags!!!! Some head of music at some tinpot US radio station says it's going to CHANGE WASTE DISPOSAL!!! She was literally bin this way. Actually do you know what we are going to do when we get to the office later today? We are going to print out a sign saying 'BIN THIS WAY' and we are going to stick it to the Popjustice office bin.
EDIT: The bin sign is now complete.
5. SHE CAN SING YOU KNOW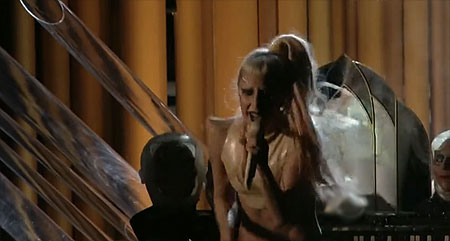 That is her singing face. It is useful to have a Singing Face because then people know you are SINGING rather than just 'singing'. We are glad Lady Gaga keeps SINGING to a minimum because it is all a bit showy-offy, but we are also glad she doesn't do too much 'singing' because she is better than that. The happy medium, of course, is Singing, and that is what she has spent most of this per­form­ance doing.
6. SEE YA!!!!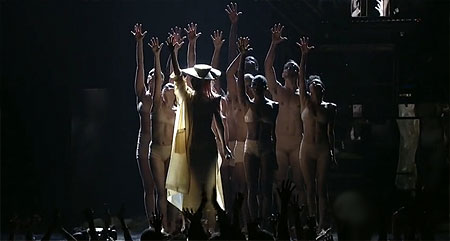 They are not actually waving here readers, it's a dramatic and poignant finish to the per­form­ance. We have to say that while we do quite like it when Lady Gaga hangs herself on stage and bleeds every­where or performs a tune-free rendition of an album track on ridicu­lous made-up instru­ments what we like most is when she just does a nice per­form­ance of a nice song and that is what we have seen here. Yes obviously there is still the egg thing but it's in the context of relative sanity that we have usually found Lady Gaga works best.
7. PAWS FOR APPLAUSE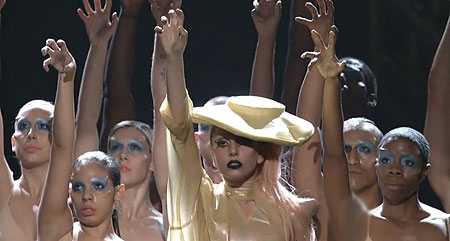 They are pausing for applause but they are doing the 'paw' thing so we said 'paws for applause' ahahahahaha hahahaha ahhaha aha ha ha. We know this is all very ser­i­ous­face 'n' empower­ing and everything but what we like most about this image is that because it is worn slightly to one side the yellow hat looks either as if it's trying to creep its way off the photo or as if it has been ineptly Photoshopped in from another picture. We wonder if omelette had will appear anywhere else in the coming days and weeks?
IN SUMMARY
1. A fairly straight per­form­ance of a fairly amazing song.
2. Madgegate might have been a little less extreme had this been the grand unveiling of the song.
3. We are def­in­itely going to do that thing with the office bin.