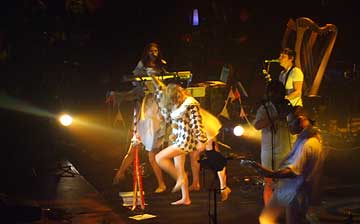 1. Alison 'Goldfrapp' Goldfrapp was wearing some form of bat-like dress that was a bit like Róisín Murphy in that 'Overpowered' video although you wouldn't tell Alison this to her face.
2. YETI THINGS DANCED ONSTAGE DURING 'HAPPINESS'.
3. 'Ooh La La' and 'Number 1' got all the middle-aged busi­ness­men next to us dancing in proper poppers o'clock fashion.

4. A ten-minute version of 'Little Bird' was all kinds of brilliant.

5. Virginal dancers became strippers 'shaking' their respect­ive 'thangs' as a maypole turned itself into a poledan­cing­pole. Dads in the audience got a bit overexcited.

6. All the good songs* from 'Seventh Tree' were played with a six person choir, orchestra, harpist and a slightly mental violinist wearing short shorts.

7. 'Strict Machine' closed the set; flashing lights made everything look a bit like a Klaxons gig but with better music.
One Less Amazing Thing That Happened at Goldfrapp's Albert Hall Thing Last Night
1. 'Ride on a White Horse' was not played. ):

* 'A&E', 'Clowns', 'Happiness', 'Caravan Girl', and 'Monster Love'