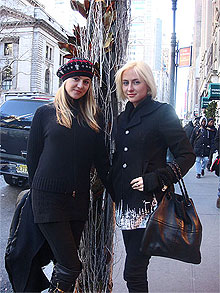 Over the Christmas period we had a sit down and a nice lunch with two new popstars by the name of Brit & Alex. They weren't dressed as popstars when we met them — they were basically 'off duty' — but we took a pho­to­graph outside anyway. Don't they look nice.
Stating that they are 'new' popstars is a bit of a push to be honest — they've been working on putting their popstar careers together for a few years but things slotted into place when they hooked up with Dallas Austin a year or so ago. Dallas appar­ently regards them as his 'new TLC'. Which is a bit of a result.
Because snap judge­ments and ludicrous pre­con­cep­tions are important resources in any aspect of music journ­al­ism we'd decided before we met them we were due to spend an hour in the tedious company of two Aly & AJ-style pop idiots, but over the course of our date (NB it wasn't an actual date) this turned out to be com­pletely wrong because they turned out to be quite bright and funny, as well as being very much in the driving seat of what's going on. It is always annoying when potential idiots turn out to be nice.
Interestingly, the girls them­selves — women, really — are com­pletely aware of how they might be perceived and actually spent the last few years fending off record labels who'd been wanting to cap­it­al­ise on those pre­con­cep­tions and take them down the 'Disney' route. (They're fairly famous faces in the States, having appeared in a John Frieda ad campaign a few years ago.)
Having done the legwork them­selves and keen not to piss it all away, Brit and Alex were on the verge of launching inde­pend­ently in the UK last summer, but fell in with Missy Elliot's manager who persuaded them to take a meeting with Jimmy Iovine. Iovine under­stood the duo's 'vibe' (Dallas Austin calls it "melting pop" — call the pun police) so they signed to Interscope and now here they are. That all might be bollocks but it's what they told us and they did not seem like total fan­tas­ists so we believe them.
Anyway their first single is called 'Let It Go'. It's a slightly spooky elec­tronic slice of gothic R&B but it's a pop song at heart with mental strings and other bits 'going off' all over the place. It's out in the UK in April.
This is how they look when they are in popstar mode.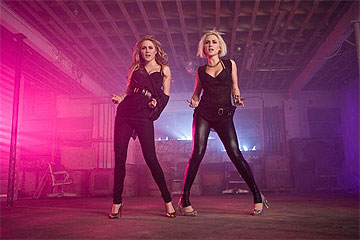 Phwooarrr etc etc.
There's more on their MySpace if this is your bag: www.myspace.com/britandalex. Some of the stuff which isn't on their MySpace page is amazing but we expect they are 'keeping it back' or whatever record labels call it when they decide not to let people hear amazing music.