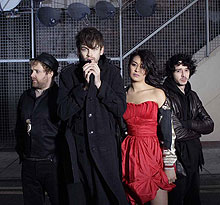 It is a question as old as pop itself: are Guillemots actually any good?

Well, their new album is certainly good. For some reason they're not releasing the best song from the album as a single and are instead giving it away for free (!!) through their MySpace.

It's today's Song Of The Day.

This is a bit of it.

[audio:krisskross.mp3]

We asked the band to explain to us why they are not rubbish indie and are in fact pop thank you very much, and this is what they sent us back.

FIVE REASONS GUILLEMOTS ARE NOT RUBBISH INDIE AND ARE IN FACT POP THANK YOU VERY MUCH, BY GUILLEMOTS

1. "Fyfe always found the Rice Krispies dictum 'Snap! Crackle! Pop!" very pleasing to the ear as a small child."

2. "Greig, our drummer, once used the phrase "I'm not a happy chappie" whilst lodging a telephone complaint to a well-known mobile phone company. An indie complaint would NOT have sounded as jovial."

3. "None of us own skinny jeans; only two of us could feasibly fit in them."

4. "We all have a voracious sexual appetite, and partake regularly in sexual inter­course. It's rumoured that people in indie bands are only capable of masturbation"

5. "Kriss Kross has two men playing tubaxes on it. The tubax is a massive brass instru­ment that you have to sit down and play, and it makes a massive sound, and appar­ently it's only been on one pop record before, and that was by Ringo Starr. Ringo Starr was in the Beatles, who have been sci­en­tific­ally proven to be pop. Thus, by default, WE ARE POP!"

Thank you, Guillemots.