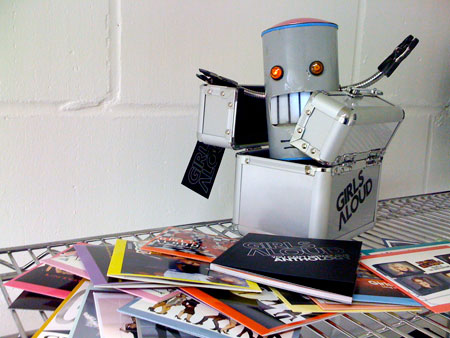 Our Girls Aloud box set arrived yesterday and it is actually properly amazing.
Clearly the booklet's sleevenotes are of an incred­ibly high standard — that's a given — and the accom­pa­ny­ing disc of rarities is a pleasing diversion, but it all feels like a very solid package. It actually, perhaps slightly unex­pec­tedly, seems like quite good value for money.
The above-mentioned sleevenotes contain a bit of blahb­lahb­lah about the box set being a time capsule of a
period in which pop music fought back and the concept of the pop single
changed forever, it will never be repeated etc etc etc. But what we weren't quite expecting when we opened the flight case box thing was a real feeling that its contents rep­res­en­ted something incred­ibly special about the last almost-decade in British pop music. It was a whoosh of emotion, readers. That is what it was.
WELL DONE EVERYBODY.
(It also contains some Girls Aloud silica gel — amazing.)