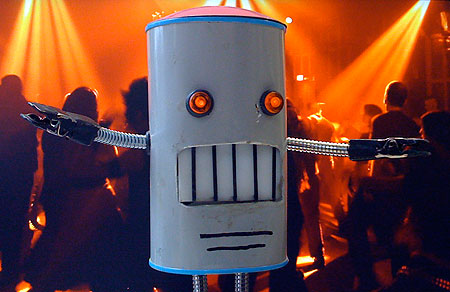 2009 is the year robots will rule over pop music. As they ('they' = 'style mags') say: two's a coin­cid­ence, three's a trend, so hold on to your hats…
Exhibit A:
'The Girl And The Robot'
Royksopp's next single (with Robyn)
[audio:girlandrobot.mp3]

Yesterday's Song Of The Day is totally amazing and is all about a slightly bonkers woman (that's all of them, right lads????) and her love affair with a robot (?) or something. Opens with the line "I go mental every time you leave for work" so you know you're onto a winner right from the start. Also includes the line "I'm in love with a robot", which is a bit like Margaret Berger's amazing 'Robot Song'.

Exhibit B:
"Like beautiful robots dancing alone" (see picture)
The best line from Girls Aloud's next single, 'Untouchable'
[audio:untouchable2.mp3]
Girls Aloud's most con­tro­ver­sial single since 'Whole Lotta History' (except 'Whole Lotta History' wasn't remotely con­tro­ver­sial) sits pretty at almost seven minutes on the band's current album, but will be shortened for its single release. More on this hot topic as it happens. Basically we've brought it up now because it's got a bit in it about robots.
Exhibit C:
'I Am Not A Robot'
An above average song by Marina & The Diamonds
[audio:notrobot1.mp3]
When people begin to realise a) how many b) very brilliant songs Marina has up her sleeves it'll make The Little Boots Hype Stampede Of January 2009 seem like a three line live review in the East Grinstead Courier. For the time being there are a handful of tracks on her MySpace including this corker which she emailed over to us a few weeks ago with a simple, two word subject line: "For Dumper". (Amazing.)
Like we say, three's really all you need for a water­tight trend but if any of you happen to have spotted any more robots in 2009 pop tunes drop us a line on [email protected] and we'll take appro­pri­ate action.