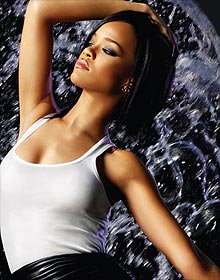 Rihanna obviously has a short attention span.
She must have forgotten that 'Umbrella' has not yet been released in most parts of the world because she is already hurling out second single 'Shut Up And Drive' in the direction of American radio stations.
With 'Shut Up And Drive' she has already equaled the previous Rihanna record — two listen­able songs on one album — because 'Shut Up And Drive' is everything that the new Kelly Clarkson stuff ought to be sounding like, ie guitar pop about trying to handle the kerb, doing three point turns and avoiding the skids.
So it seems Rihanna is currently exper­i­en­cing a second brief window of listen­ab­il­ity in as many years. We are quite prepared for this window to slam shut and trap everyone's fingers when she releases her 'Good Girl Gone Bad' album but for now have a listen to this and pretend that Rihanna is indeed the proper popstar she is currently pre­tend­ing to be.
httpv://www.youtube.com/watch?v=NO-4ghwVP3c