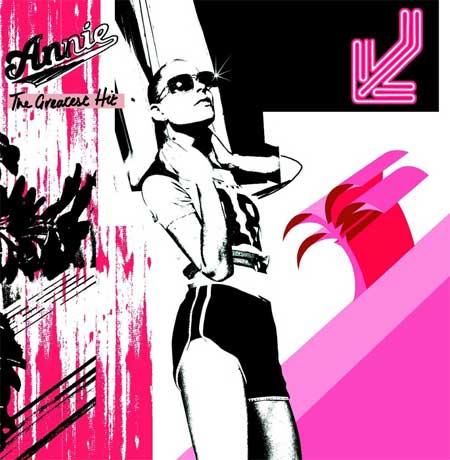 There is a lot of chat about 'the decade' at the moment. There are end of decade polls and end of decade roundups and 'ten things that happened in ten years' features and all sorts of old shit YES WE GET THE IDEA IT'S 2009 AND IT WILL BE 2010 IN A MONTH OR SO THANKS FOR THAT WORLD OF 'THE MEDIA'.
One artist whose career has quietly spanned the last decade is Annie, and her debut single 'The Greatest Hit' cel­eb­rates its tenth birthday next year. Now you might be thinking 'ten years in pop and only two albums? Annie needs to pull her finger out', and you might in fact argue that, for example, The Beatles basically invented pop, rein­ven­ted pop, turned pop on its head, recorded everything they ever recorded then split up within the same sort of time period.
However:
Did The Beatles ever work with Paul Epworth? NO.
Did The Beatles ever co-write a Mini Viva song? NO.
Did The Beatles ever get a Popjustice Song Of The Day? NO.
In cel­eb­ra­tion of Annie being better than The Beatles (or something) Loaded Records are doing a tenth anniversary rerelease repackage remix job on 'The Greatest Hit' next year and they're running a com­pet­i­tion WHICH WE'RE HELPING JUDGE (God help us all) to do your own remix and have it released along with the rest of the release.
Two points here:
1. If you're a remixer type person you can remix Annie — amazing.
2. If you're just a fan you'll be par­tic­u­larly inter­ested in the fact that you can get at all the 'parts' of 'The Greatest Hit'. Listening to a song's 'parts' is always quite amazing in a tragic train­spot­tery sort of way. Annie's voice sounds LITERALLY QUITE NICE in isolation — it's basically what she must sound like when she's absent-mindedly trilling away to herself in the morning as she pads around the kitchen and gets ready to address the business of the day — amazing.
» More info on the com­pet­i­tion here.
» Get (and listen to previews of bits of) 'the parts' here.
So there you go.
In terms of our judging role we obviously can't reveal too much about how the process will work, but we think it's fair to say that anyone using that wake-me-when-it's‑over xx mix of Florence & The Etc's 'You've Got The Love' as any sort of 'blueprint' is probably onto a bit of a loser with this one.