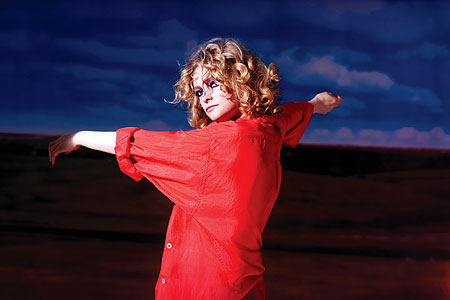 Some words we thought it unlikely we'd ever get to type: Goldfrapp are back with a disco tune.
Main points:
» It's called 'Rocket'.
» You can dance to it.
» It's got an "oh-oh-oh" bit.
» It's basically brilliant — a cha­ris­matic and elegant modern pop tune with lyrics that are by turns wistful and dynamic.
So what does it sound like? Well, it's everything you'd want to hear in a Nicola Roberts solo single AND THERE CAN BE NO HIGHER COMPLIMENT. In the same way that 'Ooh La La' was a glam record that wasn't really a glam record and was in fact just a Goldfrapp record, 'Rocket' is an Italo-esque disco record that isn't really an Italo-esque disco record and is just in fact a Goldfrapp record, albeit one which sounds a bit like Van Halen vs Laura Branigan.
The song begins with a rocket sound effect. It's a sound so appro­pri­ate as the starting point for a song called 'Rocket' that you'd almost expect Goldfrapp to have ruled it our for fear of seeming too obvious, pre­oc­cu­pied as they've occa­sion­ally seemed with such matters as 'per­cep­tion' and 'image'. The fact that it's here is brilliant: to chop it out would have been to deny the natural inclin­a­tion to include it and sometimes in pop — most of the time in pop — doing what comes naturally is more important than wondering what other people might think about it.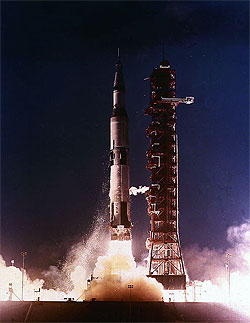 This brings us to the important bit — 'Rocket' sounds and feels like a very natural pop record. The pro­duc­tion provides the song with a radiant electonic backdrop, and there's a lot going on behind the melody, but it doesn't come self-con­sciously waving bells, whistles or kitchen sinks in your face. There's nothing wrong with bells and whistles and kitchen sinks and let's be honest we tend to plump for all three at once but following the stylised 'Supernature' campaign, and the even more stylised 'Seventh Tree' album, 'Rocket' has a remark­ably carefree feel. The song's fun in a way 'Seventh Tree' wasn't fun, and it's jaunty in a way 'Supernature' wasn't. 'Rocket' is the most relaxed and confident Goldfrapp have sounded in years but, as has already been estab­lished, you can have a little dance to it too. It's an all-round win/win crowd­pleas­ing thumbs-aloft 100% take-no-prisoners offi­cially-certified copper-bottomed happy-days-are-here-again belter, 'and no mistaking.'
Well this is all very nice but is there an album?
» Yes there is.
» It's called 'Head First'.
» It was recorded in Bath and London.
» It's out on March 22 next year.
» On the basis of the single the chances of the album being shit are VERY SLIM INDEED.
» Alison and Will wrote and produced the whole thing — hurrah.
Lyrically 'Rocket' is a love-gone-awry number which appears to be about firing an unsuit­able chap off into space. The first verse — with some very warm, floppy melodic touches — sets the scene with Alison warbling (and it should be noted that she's on fine warbling form these days) "started something, I thought it could be fun, started something couldn't go wrong. Danger, heartache, I always knew there's no winner, in this game you lose". There's a twist in the bridge: "but I still wanna know how she got in the door uninvited".
The Chorus
"Oh oh oh, I got a rocket
Oh oh oh, you're going on it
Oh oh oh
You're never coming back"
'Rocket' is three minutes and fifty one seconds in length. That's twenty one seconds longer than pop songs should be but this is a flab-free pop tune and it's just as well 'Rocket' doesn't end at the three minute thirty mark because that's the precise point at which, with the song reaching its synths-ahoy, 'Number One'-style finale, there's a brilliant whoosh noise then a great sound effect which we won't describe because that would ruin the amaz­ing­ness of the first time you hear it but IT'S A GOOD ONE.
We've known for a couple of weeks that an early listen to this new track was on the horizon and it's always fun to anti­cip­ate new material from one of your favourite bands but what we weren't quite prepared for was how exciting it now is to hear the band knocking out this sort of music again. 'Seventh Tree' was a beautiful album, and an important album for Will and Alison to make in the wake of 'Supernature', but we've always felt that Goldfrapp's heart lies down the disco and 'Rocket' puts them right back in the middle of the dance­floor. It's out on March 8.