[audio:crazyhorses.mp3]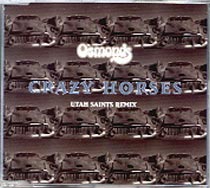 » 'Crazy Horses' is a song about how cars (horses) are bad and how they have all got riders (ie drivers) who are you and I (you and I). That's right viewers — it's metaphor o'clock.
» It is also a song with a fucking amazing 'WHEEARRGHOOO' noise in it.
» This remix was done by Utah Saints, pre­sum­ably due to some sort of labor­i­ously man­u­fac­tured Mormon connection.
» Crowd noise, sirens and a pseudo-'What Time Is Love' keyboard riff made it com­pletely brilliant, a fact con­veni­ently ignored by the record buying public who bought the single in such non-vast quant­it­ies that it stormed to Number Fortysomething.
» THIS SONG SHOULD BE RE-RELEASED NEXT WEEK. Mika's 'Big Girl…' video may suggest otherwise but if there's one thing wrong with the music industry right now it's a dis­respect for the art of rampant oppor­tunism. This song MUST be released — either with this remix, which stands up pretty well over a decade on, or with a new one — RIGHT NOW to cap­it­al­ise on the whole Live Earth thing. Give the single's profits to charity, ignore the fact that singles don't actually make any money, chuck out the most recent Osmonds Greatest Hits with a new sleeve, JOB DONE.
» Actually the more we think about it the more we seriously think this should have been the complete anthem of Live Earth. The Osmonds should have opened the whole thing. "It's a warning, it's in every tongue" — they could have had some people dressed in hilarious inter­na­tional costumes on stage with them. Frenchman in beret. Australian wrestling crocodile. Englishman refusing to go outside for a cigarette. ALL OF THEM ON HORSEBACK.
» Last year we texted Matt Willis to inform him that he should cover this song imme­di­ately. He did not respond. Lil' Chris, here's your chance for a Number One single.