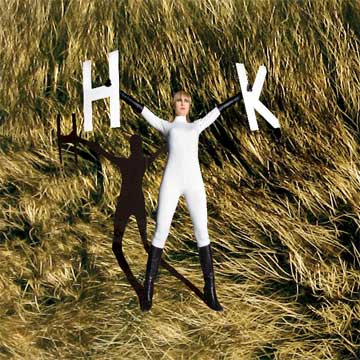 HK119 is the sort of super­styl­ised popstar who makes Roisin Murphy look like Sandi Thom but at the heart of her elegant and immensely absorbing elec­tronic pop are some great tunes and her second album, 'Fast, Cheap & Out Of Control' is a great follow up to the album we listened to a lot a few years ago then lost and forgot about. It's coming out at the end of September featuring various col­lab­or­a­tions with I Monster. The opening track, 'Mind', is today's Song Of The Day but the first single will be 'C'est La Vie' (tra­gic­ally not a cover) and that's out on September 22. We should probably have made 'C'est La Vie' Song Of The Day instead, really, espe­cially because it's better than 'Mind'.
The press release bangs on about the name HK119 being "a product code — an attempt to bring awareness to the con­tra­dic­tions of our society and the increas­ing ali­en­a­tion of modern man" — which is a coin­cid­ence because that's how The Saturdays got their name too — and while there's obviously a deep 'n' mean­ing­ful flavour to the whole thing songs like 'C'est La Vie', 'Liberty', 'Space Pt 1' and 'Divine' are straight­for­ward, amazing and really properly access­ible pop tunes you'll enjoy if you listen to Goldfrapp, Chungking, Roisin, Ladytron and 'that sort of thing'.
Oh, and this is what came in the post today.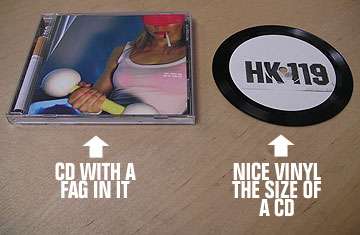 Amazing.