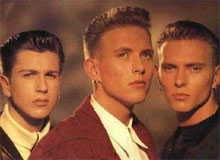 'Big Bros' is a very bad record. This is what it is.
THE BIG BROTHER THEME
+
'WHEN WILL I BE FAMOUS?'
=
ABSOLUTE SHIT
That's all it is. A Bros vocal over the Big Brother theme. The press release, however, is a work of art.
"Big Brother is watching you — or should that be we're watching Big Brother?"
HO HO HO! This is a clever play on George Orwell'szzzzzzzzzz
"Love them or hate them, the Big Brother Contestants all have one thing in common; an over­whelm­ing desire to be famous… (irre­spect­ive of talent!) Now Joyriders have delivered the altern­at­ive BB theme tune, heavily dipped in irony as they mash it up with the classic 'When Will I Be Famous' from 80's icons, Bros."
Irony? What irony? In what way has the meaning of 'When Will I Be Famous' been in any way subverted or redir­ec­ted? The only 'irony' here is that the people respons­ible for 'Big Bros' think that they are in any position to be passing judgement on the talent of others.

"Deciding to add the vocal from Bros' best loved track is on the bor­der­line between insanity and genius…"
…"on the bor­der­line between terrible and terrible"…
"The original edit cuts straight to it with the Bros vocal over the untouched original theme tune demon­strat­ing the sim­pli­city of the idea and showing just how well it works. However the dance­floors these days expect a little more and so the release somes with a set of remixes from Nat Monday and Dirty Little Funkers to keep everyone happy."
We played all these mixes in the office to see if everyone was indeed happy. They were not. 'Everyone' in fact said things along the lines of "this is awful", "surely Craig Logan can put a stop to this" and "my ears my ears".
"Bros have been in the news over the last week after talk of a comeback and Joyriders 'Big Bros' reminds us why we loved them in the first place. Could this be the start of the Bros revival?"
No.
But it is probably the end of 'mashups', dance music as a credible genre and perhaps even the career of anybody involved in this turd of a record. THIS IS ACTUALLY COMING OUT THROUGH PERFECTO RECORDS.