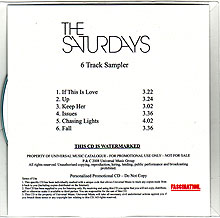 It looks like The Saturdays' debut single, 'If This Is Love', is in serious danger of being a hit record. We have drawn this con­clu­sion based on the following facts:
1. Radio One are playing it quite a lot.
2. Er…
3. The End.
But where do the band go after that?
The answer is 'Up' which, unlike 'If This Is Love', is much more than just a brilliant chorus with some other bits chucked in. What's also brilliant about the track is that although it's a) very excellent and b) very 'now' it doesn't sound like either Girls Aloud or the Sugababes, meaning that (like 'If This Is Love', we suppose) it's a song which wouldn't be released if The Saturdays didn't exist. Which in turn means the band are carving out their own little niche, sealing The Saturdays' import­ance — or relevance, or whatever — in the British pop landscape.
The band have been per­form­ing it live but we thought you might like to hear a clip of the proper studio version. So here it is.
[audio:satsup.mp3]
At the very very end of the clip you can hear one of the best bits of the song: a brilliant siren noise.
Anyway barring the sudden discovery of a world class song so brilliant that everything else is blown out of the water 'Up' will be the second Saturdays single, out in a few months etc etc etc (and possibly head to head with comeback singles from Sugababes and Girls Aloud).
If you are inter­ested in such things we did a nice interview with Frankie from The Saturdays this week, and will put that up next week.