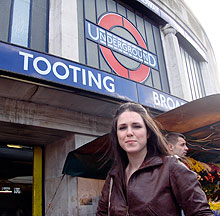 It's been difficult recently to read a newspaper or watch TV news without being con­fron­ted by news of the inhumane, unima­gin­able horrors taking place in an Austrian basement. Many com­ment­at­ors have pointed the finger at something dark, deep in the Austrian national sub­sconscience. How could the neigh­bours not have known? Did the author­it­ies do nothing? Did everyone simply turn a blind eye?
How quickly they forget. After all, it was only a few years ago that something similarly horrific happened in a basement rather close to home.
We are talking, of course, about Sandi Thom's 'I Wish I Was A Punk Rocker (With Flowers In My Hair)', promoted as it was with a slightly absurd 'Tooting basement webcast' story. It was a Number One single for Sandi, but it was also terrible. At the time we went around Tooting and took lots of pictures which we then presented as 'Sandi Thom's Tooting'. It was all very hilarious and clever*.
Anyway Sandi's new single ('The Devil's Beat') isn't really that terrible at all so we decided it was time to go back to Tooting, this time with Sandi as our guide.
We met her at her
house and before the Tooting tour. She had us in the basement within ten minutes but, rather than keeping us captive for 24 years, she simply let us take a picture…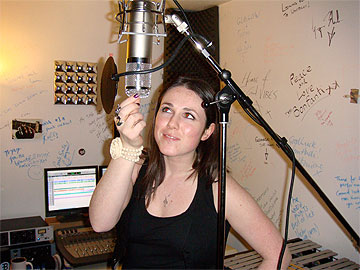 …before allowing us to add Popjustice's name to her special 'grafitti wall'.
When all that was out of the way she took us on the Tooting tour. Click here to see the pictures…
* It was, of course, nothing of the sort.