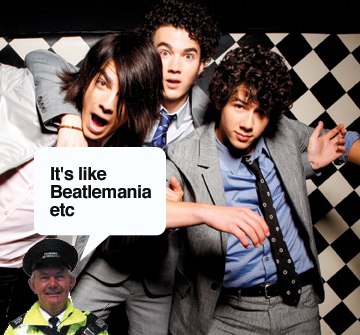 It wouldn't be a 'suc­cess­ful US band comes to UK for whirlwind media spree' without fans mys­ter­i­ously appearing outside venues and traffic wardens appearing on local TV news reports saying "I've never seen anything like it, it's like Beatlemania etc etc etc".
For reasons far too long winded and harrowing to go into here we've been sent The Jonas Brothers' upcoming itinerary and thought you might like to see it as it's quite inter­est­ing to see what bands get up to in pro­mo­tional tours even if you're not a teenage girl prepared to risk being bum raped 100 miles from home in exchange for the privilege of taking a shit mobile phone picture of a popstar as he walks between a stage door and a waiting people carrier*.
Tuesday 27th May — Glasgow. Show at Glasgow Academy.
Wednesday 28th May — London. TV appear­ance on The Paul O'Grady Show.
Thursday 29th May — Manchester. Radio interview at Century Radio and interview on In Demand. Show at Manchester MEN.
Friday 30th May — Birmingham. Interview with Tim Denning for evening show. Show at Birmingham NEC.
Saturday 31st May — London/Cardiff. Appearance on The Green Room and a show at Cardiff CIA.
Sunday 1st June — Plymouth. Live show.
Monday 2nd June — London. Appearence on Loose Women and Sound TV.
Tuesday 3rd June — Bournemouth. Radio interview on Power FM and Wave 105 and a live show at Bournemouth BIC.
Wednesday 4th June — London. Radio interview with Capital FM and a live show at London O2.
Thursday 5th June — London. Recording a Nickelodeon Kids Award promo.
Friday 6th June — Dublin. A live show at RDS Simmonds court.
Saturday 7th June — London. A live show at Odyssey Arena.
Friday 27th June — London. A potential instore set at HMV in London.
There you go.
* This is our way of saying that if you are planning to stalk the band, make sure someone at least half respons­ible knows what you're up to, and don't do anything stupid that puts you in danger.