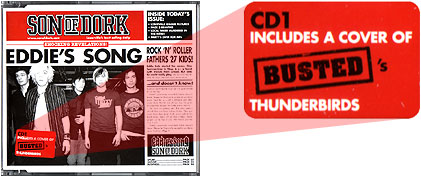 We really like 'Eddie's Song' — and the com­pletely shameless video featuring bumlove and the sight of David from the band showing his ringpiece to an audience of teenage girls.
But can anyone explain how and why a cover of 'Thunderbirds' is on the b‑side of Son Of Dork's second single?
And then there's this.

Seems like only yesterday McFly were selling records off the back of a Busted endorse­ment. Funny how things turn out, isn't it?
(Oh, and you know what day it is tomorrow, don't you? PREPARE TO BLUB!)