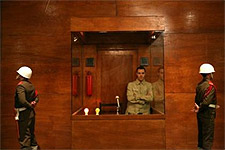 Jo Whiley's Live Lounge.
Not a phrase to put a spring in the step of your average Popjustice viewer, con­sid­er­ing the slot tends to involve a band like Embrace going "Look! We're going to cover a pop song and prove that really it is good as long as it is done in a dreary indie style", but Will Young (pictured, in the bundle-of-laughs video for his new single) appeared on the show yesterday.
Will's last visit to the Live Lounge involved a 'crit­ic­ally acclaimed' version of OutKast's 'Hey Ya!', but this time round he went for Pussycat Dolls' 'Don't Cha' and it was really quite good.
Here is what you need to know for the amaz­ing­ness of this to make sense:
1. 'Don't Cha' is about stealing a lady's boyfriend.

2. Will Young is a gay.
DO! YOU! SEE!!??!!
Listen again: click here.