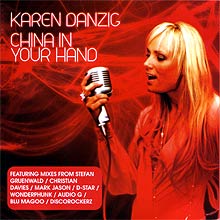 We love receiving CDs con­tain­ing nothing but one song remixed a million times, and we love playing them IN THEIR ENTIRETY on the office stereo. After the fourth or fifth remix it invari­ably turns into a real test of endurance but the feeling as the CD finally ends is one of strange contentment.
In recent weeks we have enjoyed Robyn & Kleerup's 'With Every Heartbeat' (seven remixes on one CD) and Freeform Five's 'No More Conversation' (nine remixes) but the ante has been well and truly upped today by the arrival of a 'China In Your Hand' (oh yes indeed) CD by Karen Danzig, which contains no fewer than TEN different remixes of the T'Pau cover.
Mixes are by 'Christian Davies', 'Mark Jason', 'Gruenwald', 'D‑Star', 'Audio G', 'Wonderphunk', 'Blu Magoo' and 'Discorockerz', meaning that all but two of the ten tracks are remixed by different people. Amazing.
At the time of writing we are five tracks into this — what is it? A single, an album? — and track four has been the best because it has crowd noise in it.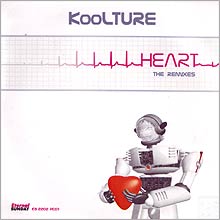 Special mention must also go to 'Heart — The Remixes' by Koolture, which contains nothing but ten — AGAIN! TEN! — different versions of Pet Shop Boys' 'Heart'.
Not exactly the first Pet Shop Boys song you'd put on the flipchart in a Which Pet Shop Boys Song Shall We Cover Ten Times meeting, but it works really well.
More info on Koolture (and one of the 'Heart' mixes, but not the best one) here.
The CD sleeve has the phrase "this is my little tribute to Pet Shop Boys" on it, which is a hilarious in-joke only to ever be enjoyed by the eight people who went to see 'Closer To Heaven'.