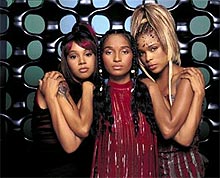 Hello.
Apparently you are currently sorting out all the remixes to accompany TLC's upcoming 'Crazy Sexy Hits' (hence the name etc) com­pil­a­tion album.
We are aware that the track­list­ing of the main CD is this.
1. No Scrubs
2. Waterfalls
3. Creep
4. Red Light Special
5. Diggin' On You
6. Baby-Baby-Baby
7. Come Get Some
8. Paul
9. Girl Talk
10. Damaged
11. Whoop De Woo
12. In Your Arms Tonight
13. Turntable
14. Kick Your Game
15. Silly Ho
16. Hat 2 Da Back
17. Get It Up
18. What About Your Friends
19. Ain't 2 Proud 2 Beg
20. Unpretty
You cannot go wrong with a bit of 'Silly Ho'. That is a universal truth. But that is not what we want to talk about today. Today we would like to talk about the remixes. We are not going to beat around the bush here. If you don't get The Freemasons on the case right now we are going to come round to your office and break some dishes off your head. This is why.
httpv://www.youtube.com/watch?v=4zev51hEdk0

"T‑Boz, Left Eye, Chilli. T‑Boz, Left Eye, Chilli. T‑Boz, Left Eye, Chilli. T‑Boz, Left Eye, Chilli." Yes? Yes.
We know your name and we know where you work.
If you have already got The Freemasons on the case feel free to ignore this.
Thank you.
PJ x