In the autumn of 2009, with various knockoff cover versions of Shakira's 'She Wolf' scaling the charts before Shakira's own version of the tune had even been released, we did a thing for The Guardian about how sound­a­like versions of tunes were taking over iTunes. "Labels have now lost control of their most precious marketing device, which teased fans with radio play, video airings and TV per­form­ances, creating demand months ahead of a single's release," we wrote. "Illegal downloads, and this latest wave of covers, mean that any thirst a label creates can be instantly, unof­fi­cially quenched."
Well this weekend it was announced that in order to combat piracy (ie make more/lose less cash) Sony and Universal will be moving to an 'on air, on sale' model. As soon as a song is played on the radio, it'll be available to purchase.
The timing is pretty perfect: following last Tuesday's official online and radio premiere of the Britney single 'Hold It Against Me' Sony released the track for sale in most of its major ter­rit­or­ies. At one point, not long after release, the song was at Number One on iTunes in 17 different countries.
That didn't happen in the UK.
In the UK, Britney's label decided on a February release date. As well as unne­ces­sar­ily putting Britney head to head with Lady Gaga's new single — a foolhardy move for any act — the decision also meant that UK fans would have to wait a month to buy the song. Well, of course, they wouldn't have waited a month. Although they would happily have spent a quid on a legal download, fans ended up illegally down­load­ing the track, or legally listening to the track on YouTube. Either way, by the time February's official release would have come around, the legal release would have been purchased by only the most hardcore Britney fans — the ones bothered by the single's chart placing. Everyone else would probably have moved on.
In the end, Britney's UK label saw sense, and the track's release has been brought forward. It's out today on UK iTunes. The rest of this week's releases came out yesterday so 'Hold It Against Me' loses a day's sales, and hopefully Britney doesn't miss out on Number One by the equi­val­ent of that day's sales or her fans will probably end up marching on Kensington High Street. It could turn ugly. Imaging having to kettle a load of Britney fans. Actually it would be worth it just to hear their wails as you blast Christina Aguilera tunes at them for hours on end.
But we digress.
Basically the Britney single is out today (hurrah) and sits happily on iTunes alongside a variety of cover versions. It's an inter­est­ing snapshot of how quickly it's possible for people to move — the song was unveiled last Monday (24 hours before Tuesday's official premiere) and the knockoff merchants had recorded their own versions and got them onto iTunes by Friday. In the case of the True Stars version, they even went so far as to cobble together some ripoff artwork too.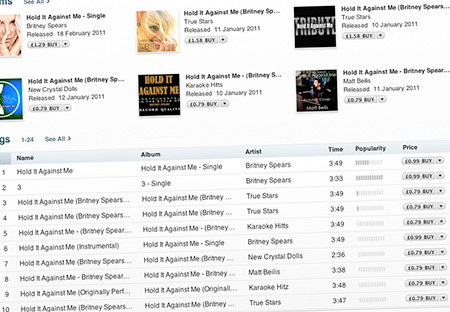 To make things even more confusing some of the entries, like the True Stars one (iTunes link) actually seem to be the proper Britney recording (in this instance track two is the Track Stars cover) but we are sure that will all be sorted out sharpish.
The upshot of all this is that the Britney single is now scaling the charts and everyone can go to bed tonight happy that things are working out just fine, and it's very exciting that the 'on air / on sale' thing will soon be very normal indeed.
YES THAT'S ALL VERY NICE BUT WHAT DOES THIS ACTUALLY MEAN?
Well, it means lots of things. Some of them are:
1. Radio will become even more important in a record's success, while any part of the media that takes more than 24 hours to reach the public is left for dust. Basically it's not good for print pub­lic­a­tions, and tracks will sometimes have been hits for weeks before pop video channels like The Box are able to play them. Perhaps, in the same way that cover versions have been all over iTunes to meet demand, these video channels should shoot their own temporary videos for songs. That would be quite good.
2. We have a feeling this could be a way for more guitar music to get back into the Top 40.
3. Fans and the media will need to reassess their idea of a hit single. An a‑list single released to iTunes and radio sim­ul­tan­eously, and which debuts at Number 4, is not a flop. In fact a
new entry at Number 36 will not be a flop, it is just the start of a big hit
record.
4. Marketing direct to fans (getting in their way on Twitter and Facebook) now has an even bigger sig­ni­fic­ance — but it must be used wisely. The on air/on sale date is all very well, but if you are a label when do activate your fanbase? Naturally fans will want to buy the song as soon as they hear it, but shooting your load in week one isn't great for the longterm success of the single campaign.
5. For that reason we expect to see staggered single campaigns become more common. Radio edit goes on sale week one, remix package week two or three, video appears a week later along with full b‑sides and bonus tracks packages. Ironically, after removing the arti­fi­cial release date, labels may soon find it necessary to find new ways to arti­fi­cially extend a single's lifespan.
6. Will radio stop playing a song as soon as it turns out people aren't buying it, and if so does that actually defeat the object of bringing a release date forward to coincide with radio debuts? Has the six week period actually been really useful when it comes to people getting to know and love a tune? Does the on air/on sale approach favour the instant tune and will it have a negative impact on songs that are 'growers'? On the other hand, was there actually any such thing as a grower or were most examples of growers just songs that gradually wore people down, which isn't the same thing as being actually 'any good'? We are not sure about any of this but we do know that with big acts as much as small acts radio will be merciless when it comes to pulling its support at the first sign of a flop. Imagine that: Duffy's 'Well Well Well' gets its first big radio play on Sunday night, track goes on iTunes imme­di­ately, stalls at Number 35 on the iTunes chart by Tuesday, everyone stops playing it by Wednesday, single dis­ap­pears from charts. Within three days the single campaign, the album campaign and the artist's career is dead in the water.
7. Partly for that reason videos will be com­mis­sioned slightly dif­fer­ently moving forward — there'll be a 'wait and see' element to how much is spent, or even whether there is a video at all.

8. During the bedding in period labels will decide which songs should and shouldn't have a sim­ul­tan­eous on air/on sale date. Sometimes they will get it right and sometimes they will get it wrong. In time it will be clear that on air/on sale works better for some acts than for others, and it will probably also become clear that some fanbases react better than others. So we expect to see some level of genre segreg­a­tion to emerge.
Oh do you know what we haven't a clue what will happen but it's all quite exciting so HOLD ON TIGHT.