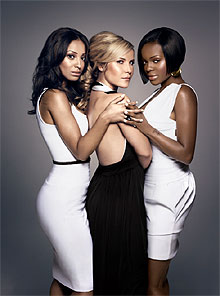 » It is called 'About You Now' and it is out next month.
» Dr Luke produced this. He may have written it as well. He def­in­itely had his hand in it somewhere. Dr Luke does stuff like Lady Sovereign, Kelly Clarkson and Paris Hilton. He is very good.
» It is a ballad.
» We are only joking. It is not a ballad at all.
» "Can we bring yesterday back around because I know how I feel about you now / I was young, I was dumb, I let you down but I know how I feel about you now." That is the chorus. It is amazing.
» There's no getting away from the fact that it does start off sounding a bit like Kelly Clarkson's 'Since U Been Gone', but it's also exactly the sort of song Kelly Clarkson would have refused
to record for 'My December'. There can be no higher praise.
» Anyway, by the chorus it's decided to be a barn­storm­ing pop-electro-rock mas­ter­piece.
» It is a proper pop song. It is not trying to be clever and it is not really trying to be "oh look at me I'm innov­at­ing". It is just a very unself­con­scious, very pleased-to-be-exactly-what-it-is pop song.
» "Don't let our last kiss be our last" is another good line.
» It ends with a double chorus and then "but I know how I feel about you now, and I know how I feel about you now", ie repeating the last bit of the chorus twice, which is one of the best things that can EVER happen in a pop song. It does not end with a fade.
» It's the best Sugababes single since 'Round Round'.
» It doesn't sound anything like what the Sugababes have done before but it is instantly recog­nis­able as a Sugababes song.
» We like it quite a lot.