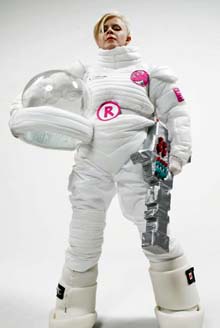 We offi­cially love Robyn all over again now she is back in the Top Ten…
The last time we inter­viewed Robyn we needed to explain who she was using a hit single from a decade ago in an attempt to jog your memories. However, instead of being an old popstar trying to make a comeback, Robyn is now a proper success all over again with a Top Ten hit, the increas­ingly amazing 'With Every Heartbeat'.
We talked to her about doing her laundry last time. This time, we had a lot more to ask…
Right then Robyn. Your single's doing offi­cially Quite Well in the charts…
Yes, it's amazing. I'm really pleased.
We were a bit worried nobody would buy it, having already illegally down­loaded it over the last year.
Well, there's always that worry but I knew I couldn't do anything about it. I knew I just needed to find people I wanted to work with in the UK. Releasing it on a major label and doing that all over again would be awfully stupid of me. I wanted to find an organic way of doing it.
You walk backwards in the 'With Every Heartbeat' video.
Yes.
Is that something you do in real life or is it something you simply staged for the video? Are you mis­lead­ing your fans? Being 'whiter than white' is very important in the media at the moment.
Well no I don't walk backwards in real life and it is a bit mis­lead­ing but if you think about it when the song dissolves and weird chorus comes in at the end that's when I start walking forwards again.
Is that deeply significant?
I don't know, ask the director! Hahaha! I was just happy there were bright colours and different shapes in it. I was driving them mad about that.
Are you quite difficult to work with in that respect?
I am if I don't think people are doing the right thing. If they're doing the right thing that's good.
That sounds like someone who's quite difficult to work with.
I think I'm good to work with because I tell people what I want.
Okay. Difficult. What advice do you have for terrible bands who would like their own hit single out of nowhere?
Um…
Do you think you only need one good song?
That's it! Write a good song and you'll be off.
Basically, don't bother writing loads of songs. Just write one really amazing one.
Exactly! Then you'll have it right. Don't start a record label if you don't have a good song.
Are people going to be dis­ap­poin­ted when your album isn't full of loads of 'With Every Heartbeat's?
I think they'll like it.
What will the next single be?
I can't tell you.
Will it be 'Be Mine!'?
No!
NO???
Well I think that we'll see what happens when this single is estab­lished. I mean you know who I am and a few other people do but a lot of people don't so… Well, 'Be Mine!' is the best song on the album so I won't release it until lots of people know who I am.
You're basically going for the Christmas Number One aren't you.
Maybe… Let's hope for that!
Could you take on the Spice Girls?
Yes I do think I could take on the Spice Girls for Christmas Number One.
What if their song is amazing?
The Spice Girls' song is not going to be amazing.
What if their song was like 'With Every Heartbeat' but a tiny bit better?
Well I released it before them. Also theirs wouldn't be better. I think people are smarter and they're still going to like my song better.
How much money shall we put on 'Be Mine!' for Christmas Number One at the bookies?
That's up to you. I can't tell you what to do with your money. I've already spent a whole shitload of money on these songs so I'm going to do my best to make it work!
Did you set aside a chunk of cash to be your 'record label' money or did you pay for things by going to the cashpoint?
Well to start off with it was my personal money and now it's a proper company with its own structure. Basically the office has been in my kitchen for two years because this is where we have our board meetings.
Are you going to write more songs for people like Darin?
I don't write for other people on purpose, it's just that sometimes it happens. Sometimes I will write a song and not record it and someone else will – actually that's my publisher's job. I don't even know how it happens. Sometimes someone will phone and say 'can I use your song?' and I will say 'Who are you?'. And then we sort it out. When I wrote 'With Every Heartbeat' I wrote the lyrics about Kleerup breaking up with his girl­friend. I borrowed his life and wrote a really sad song then I had to double check with him that it was alright because I'd used him.
Did it make him cry?
It actually did make him cry a couple of times.
Do you have a message for the Popjustice readers who have supported you through thick and thin?
Yes! I would like to say hello Popjustice readers, remember always to do the rakamonie, exclam­a­tion mark. Do you know how to spell rakamonie? R‑a-k-a-m-o-n-i‑e.
What else? Are you in your kitchen now?
Yes I am. And in a bit I'm going to go out and see my account­ant, actually.
Are you going to roll around in piles of cash?
(Laughs) No, I haven't made the money yet. But let's hope I do it. Let's hope for that Christmas Number One.
The campaign starts here!
Yes!
Thank you very much Robyn.

*