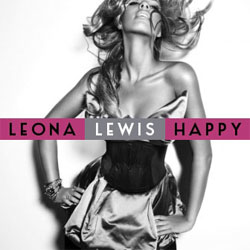 » This song has not, as you might have imagined, been out for several weeks. In fact it was only released yesterday.
» It does seem to have been knocking about for a while doesn't it.
» At the time of writing — it's Monday morning, viewers — 'Happy' is offi­cially not as good as JLS' 'Everybody In Love' according to users of iTunes.
» Leona performed this on The X Factor last night. Instead of being accom­pan­ied by a massive balls-out swaying-from-side-to-side miming-but-looking-amazing choir she was joined on stage by what one of our Twitter followers described as "three backing singers a shit fake band". She was, however, wearing a nice frock. The time of this per­form­ance was offi­cially swings and round­abouts o'clock.
» Just as the 'Spirit' campaign is remembered mainly for 'Bleeding Love,
so the 'Echo' campaign will really be remembered for Leona's various
nice dresses. And this song. Mainly the dresses.
» Leona's acting in the song's video is quite good but only in the sense that someone not doing very much can con­vin­cingly portray someone, er, not doing very much.
» The End.