This is the video for Nelly Furtado's next single, 'No Hay Igual'.
For those of you unable to watch YouTube videos, here is what happens:
Nelly Furtado walks down a street.
Nelly Furtado points at the viewer — thus breaking the important 'fourth wall'.
Nelly Furtado watches a man wave his tits around on a balcony.
Nelly Furtado sees some dogs but doesn't end up in an under­ground disco looking for them like in the 'Maneater' video.
Nelly Furtado puts some ice cream on the above-mentioned man's face. This is probably a reference to some form of spe­cial­ist form of pornography.
Nelly Furtado plays some pool.
Nelly Furtado ends up in an under­ground disco after all.
An accordion is waved around.
Some people dance in the street but not exactly like in the Geri Halliwell 'It's Raining Men' video.
We think that the man in the video may have caught your eye. His name is Rene Perez and he is the frontman of a reggaeton band called Calle 13. Here's a picture of Calle 13.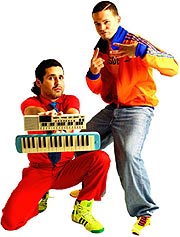 HA HA HA.