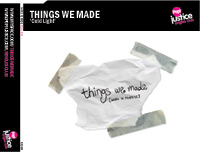 We have a new download for you: 'Cold Light' by Things We Made.
'Cold Light' is proper pop music for grown ups, and it sounds a bit like a cross between 'Ray Of Light' and 'Valentine' by The Delays. It is very very good. It has bits where it all drops out before the chorus, and EVERYTHING.
Things We Made, meanwhile, feature ex-members of Brothers In Rhythm, prize-winning disco dancers and relatives of famous wrestlers.
To find out more about Things We Made and to download other Popjustice Singles Club so-called 'releases', visit www.popjustice.com/singlesclub.