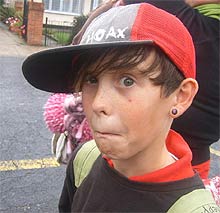 We've been listening to Jo Whiley on Radio One this morning. There was a lovely letter from a girl who wasn't very happy and then she heard 'Walking Away' by Craig David and everything seemed alright, so Jo played 'Walking Away' by Craig David for her. It was a beautiful radio moment. It really was.
Jo also played the debut single by Lil Chris. Apparently he was in Rock School with Gene Simmons, although the whole thing rather passed us by because we didn't watch it. Sources suggest that Lil Chris was the 'star of the show', or something.
ANYWAY, Chris' single is called 'Checking It Out'. It has been done with Ray 'Madman' Hedges, pre­sum­ably in his 'Mothership', and is both ludicrous and amazing. Chris has signed to RCA for the purposes of pop­star­dom. We were sent a CD which also had two other songs on it, but to be quite honest we've lost the CD in question and can't tell you anything about his other material. From what we remember, however:
1. It was good.
You can have a listen to 'Checking It Out' by quite literally 'checking out' his MySpace page.
What does Chris have to say for himself on MySpace, we wonder?
"Im an emo my hair cut emo(huh kinda) i dress like me so call me emo and ill ill. i dont suit goth,chav,grtunge so wot else is their ,anyway i dont even try i hate it wen peepol judge for wha you look like man of if your a person hu is obsessed with them­selves or if you hate emo..IM NOT EMO though! (and wen people critociseAnd i love americans… but first in my life comes my guitar i love it and i love rock school which i am in the series two of …how cool towers of london rock everyone should pray to them and kiss theior feet."
Er…