Popjustice was added on MySpace this week by a new girlgroup. They haven't got a complete lineup yet and now we come to think of it they haven't actually recorded any music either, but they do have quite a good name.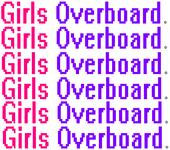 The girls say: "we are a 3 piece girl group [they're looking for their fourth member] made up of Jodie, Munira and Nicola. Our
aim is to become a suc­cess­ful girl group, and show the world our music,
which we write ourselves. Between us all we have wrote around 30 songs
in the past month, and we are now currently preparing to record some of
them, so we can send them off to some labels. So keep checking our page
for updating".
What we quite like about this is that the band's three current members will, in the next few weeks or months, make a series of decisions. If they make the right decisions, they have the potential to be the greatest pop act of all time. If they make wrong decisions, they'll fail. (No pressure or anything.)
Find out more about Girls Overboard at their MySpace: www.myspace.com/girlsoverboard.
Here's a bit of Girls Aloud doing 'Girl Overboard' on the Tangled Up tour.
httpv://www.youtube.com/watch?v=BpY7aZ9qSGE

10/10.