Guess what's just arrived in the office.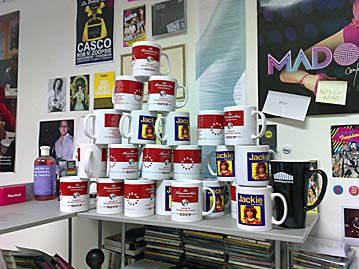 That's right: a box con­tain­ing another TEN Housemartins mugs.
As things currently stand:
Housemartins: 15 mugs
'Jackie — The Album': 7 mugs
Please note, on the right, one solitary mug from Wembley Arena which arrived — this is the genius bit — with some teabags in it. Come on, 'The O2', don't you have any mugs?
Really, though, it's all about 'Jackie — The Album' vs The Housemartins. Will Jackie's marketing team at EMI now bow out and admit that their opposite numbers over at Universal have won the mug-off?
Watch this space.