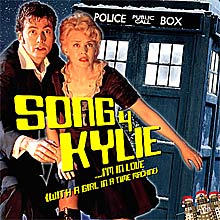 HRNNK!!!! Greatest song of 2007 (maybe) alert!
It's called 'Song 4 Kylie (I'm In Love With A Girl In A Time Machine)' and it is by Fast Ood Rockers (do you see what they've done there etc etc etc).
It is all about the fact that Kylie is in the Christmas 'issue' of Dr Who and it reswizzles Goldfrapp's 'Strict Machine' so that it is now about "I'm in love with a girl in a time machine".
Again, you can probably see what they've done there.
As well as Goldfrapp it also includes…
» Sleigh bells!
» Crowd noise!!
» A rave horn!!!
» Something which sounds like it's from 'Smile Like You Mean It' by The Killers!!!!
» A bit nicked out of 'Doctorin'' The Tardis'!!!!!
» Etc.
The kitchen sink may also be present somewhere in 'the mix'.
Here is a clip.
[audio:song4kylieclip.mp3]
Now correct us if we're wrong but isn't that everything you want in a Christmas single?
Amazing? Amazing…