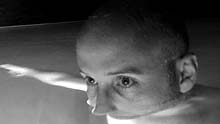 Here's a turn up for the books: Moby has remembered that he used to be quite tre­mend­ous and has reflected this in his new album.
Lead single 'Disco Lies' is a brilliant electronic
Please Note: If you are planning a trip to KFC for lunch might want to rethink the 'Zinger Tower Burger' you have in mind.
httpv://www.youtube.com/watch?v=MwyPI-zKqRs

In other news, you can listen to an eight minute 'mash-up' of Moby's new album 'Last Night' if you click here. It is totally amazing from the 4.40 mark onwards.