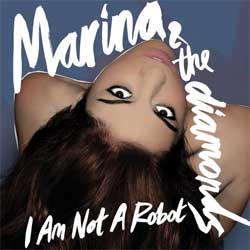 As you will probably be WELL AWARE, Marina & The Diamonds' new single is a re-release of 'I Am Not A Robot'.
It is both a new single and an old single. It's a nongle.
The song is as amazing as ever.
Anyway to celebrate (because people are really lining the streets waiting for the song to come past in a open-topped car) the release of the single there is some sort of com­pet­i­tion happening on YouTube in which 'users' are invited to 'generate content'.
The idea is that the song has a video already…
httpv://www.youtube.com/watch?v=S_oMD6-6q5Y

…but needs a new one.
So fans are invited to record their own videos and put them on YouTube and then there is an unspe­cified prize for the best one. Full details of the com­pet­i­tion are here.
HERE IS ThE OFFICIAL POPJUSTICE ENTRY.
httpv://www.youtube.com/watch?v=tmvfQURreWM

Poor old Dumper. He's been having a hard time of things recently, as his Twitter followers will already know. :(