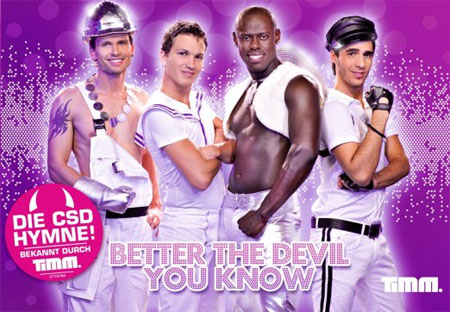 JLS may have put boybands back at the top of the charts in the UK but we might not yet be ready for all-German, all-gay boyband The Village Boys. Mainly because they appear to be Literally Quite Terrible.
As TAFKAP on the Popjustice forums sum­mar­ises: "German Gay-interest TV
channel "TIMM" was looking for a new Village People-type of openly Gay
boyband. They're signed with Universal and will release their debut
single, a cover of the Kylie/PWL classic, in August. This is the 2nd
attempt at a modern-day, openly homo­sexual boyband from Germany after
Marilyn's Boys flopped dis­astrously in 2002."
TAFKAP's post reminded us of a video link another reader sent over last week which didn't make much sense then but makes (a little bit) more sense now — it's from the auditions, and features a certainly-memorable version of Scissor Sisters' 'I Don't Feel Like Dancing'. Watch out for the bit where he starts chan­nel­ing La Roux…
httpv://www.youtube.com/watch?v=U6Ktx7HFVwU

The above-mentioned Marilyn's Boys, you may remember, were respons­ible for this version of 'Hot Stuff'.
httpv://www.youtube.com/watch?v=sFFKE0o30tA

Thank you, Germany.