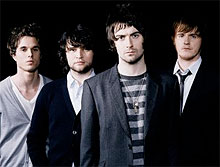 Are you familiar with popular indie troupe The Courteeners?

Crash course:

1. From Manchester.
2. Childhood friends.
3. Shit.

Anyway they've covered Sugababes' 'About You Now' for a b‑side on their new single 'No You Didn't, No You Don't' so we thought you might like to hear it.

Warning: do not listen if you would like to enjoy 'About You Now' ever again.

[audio:court2.mp3]

Now wash your ears.

httpv://www.youtube.com/watch?v=QPPgHlh1PVI

We've heard the Sugababes version of that song hundreds of times now and the funny thing is that every time we hear it the song still gets slightly better.