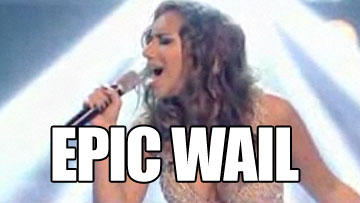 Leona Lewis has not made much of a secret out of the fact that she's alright at banging out the occa­sional pop tune, but when an MP3 of her 'Bleeding Love' vocal — stripped from the backing and totally acapella — arrived in our inbox earlier this week it was a bit of a shivers-down-the-spine moment.
Watching the pop video channels on TV it's sometimes easy to be cynical
about the endless cavalcade of idiots, children and socially retarded
nothings who attempt to win our affec­tions but it's difficult to listen to this 'Bleeding Love' per­form­ance and not be impressed.
[audio:leonawail.mp3]
It really does seem that when it comes to the old warbling lark Leona Lewis hovers somewhere in 'above average' territory.
We're currently in nego­ti­ations to get it on the new Moonpig TV ads but in the meantime here's a link to download the whole thing, if you fancy. Feel free to send us your amusing bootlegs…