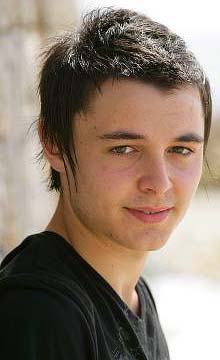 Let's have a little look at the new chart's movers and shakers…
Number One: Leona Lewis had better watch her back – he's got a shorter name, shorter hair and people simply will not stop buying his music. Do you remember back in the Leona Lewis glory days of November 2007 when people wouldn't stop buying her music? We were all much younger then. Anyway, Leon Jackson is still Number One, and he appears to be putting down roots of some sort.

Number 13 & 16: Sugababes' 'About You Now' is still a lot more popular than 'Change' despite having been on the charts for over three months. There is probably a Christmas voucher factor to take into con­sid­er­a­tion here, which will also explain the renewed success of The Hoosiers' bloody 'Goodbye Mr A'.

Number 14: Hurrah. Happy Hardcore is back back back.

Number 21: Slowly and unsurely, 'Some Kinda Rush' is making its way somewhere.
And one from outside 'the 40'…

Number 43: Should 'Wow' be Kylie's next single? Well, its brief surge of pop­ular­ity has now ended, but '2 Hearts' is still at Number 22 and we all know how unpopular that one seemed at the time. We are sure it will all sort itself out.
Let's hope everything is back to normal soon.